Shining on the Stage for Jesus
The Westminster Performing Arts Department motto is "Soli Deo gloria" (all glory to God), a phrase Bach wrote on each of his compositions and a mindset we strive for as we pursue excellence in God's creation of music. Each part of the performing arts department strives use the gifts and talents He gave us to worship Him.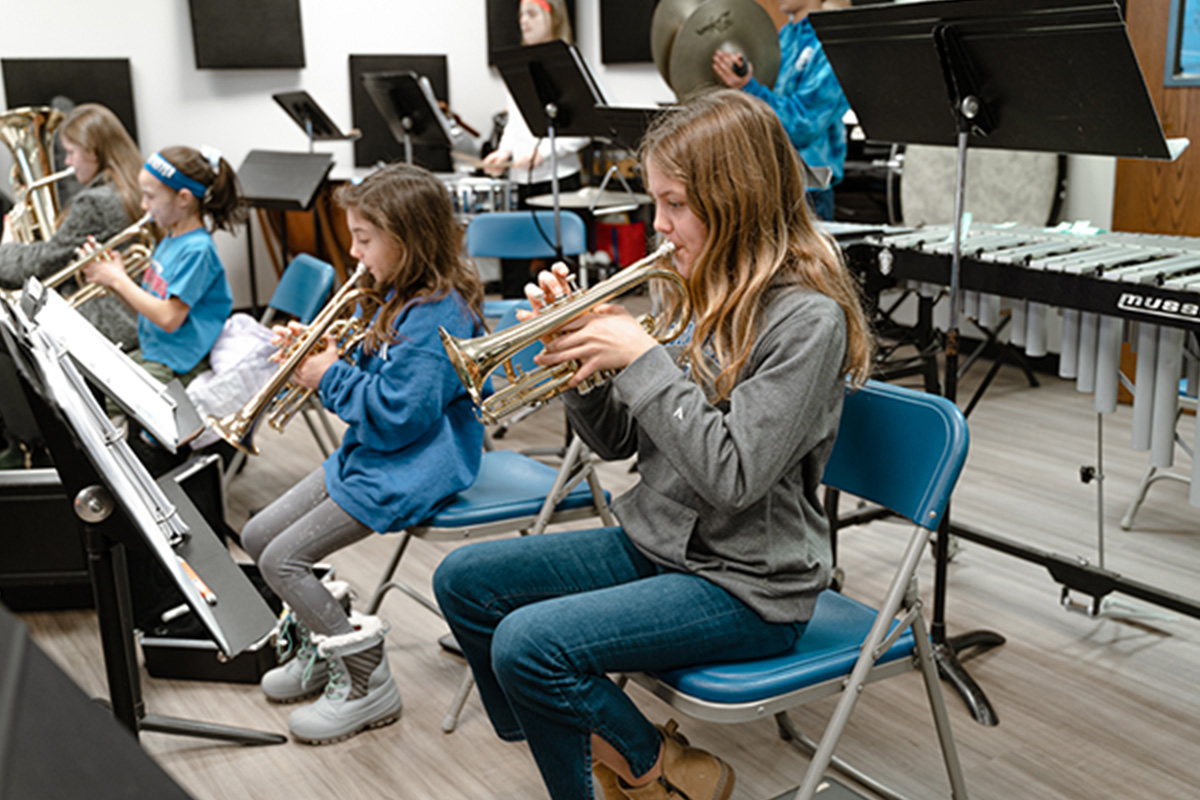 We have multiple band programs available for our middle school and high school students, providing unique opportunities to explore music through refined repertoire. Our program also develops students' ear, technique, tone, practicing habits, and rhythmic accuracy, as they learn music theory, history, and professionalism. Many students also take individual lessons with a member of our staff to grow in their performance abilities.
Our vocal program provides students with the unique opportunity to explore music through diverse repertoire. Students will develop their sense of pitch, tone, blend, harmony and expression, as they learn theory, history, professionalism, and vocal-health. Class often extends beyond rehearsal, into intensive music learning and community development.
Choir members are encouraged to compete in ILMEA district choral competitions and are provided with individual vocal coaching on a regular basis. Our choir was recently invited to perform at Carnegie Hall in New York City, and our Performing Arts program is consistently recognized for excellence.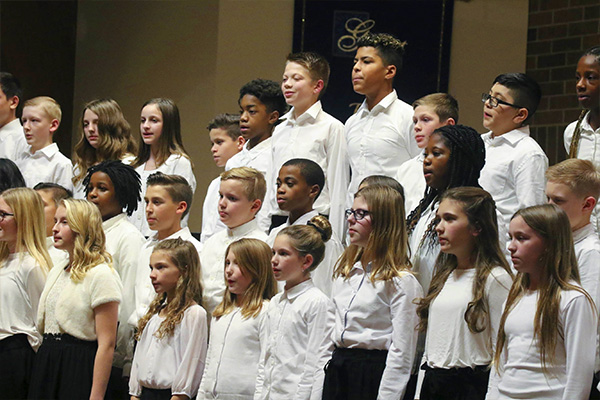 Our theater program focuses on discussing, instilling, and living out an understanding of what it means to worship through theatrical performance as we work toward excellence. As followers of Jesus, we strive to be different from artists who do not know Jesus in process, rehearsal, product, and performance.
Illinois High School Musical Theater Awards recognizes Westminster as a participating school, and several of our students have received awards for their performances.
The all school musical begins at the start of the school year with performances in November. Students in grades 3-12 are able to perform together on the stage as they work together toward a common goal. Students are given "big sibs" and "little sibs" throughout the process to foster community and help guide and impact our younger actors as they learn how to worship Jesus through performance.
Previous all school musicals include Chitty Chitty Bang Bang, Disney's Newsies, Singin' in the Rain, and Mary Poppins.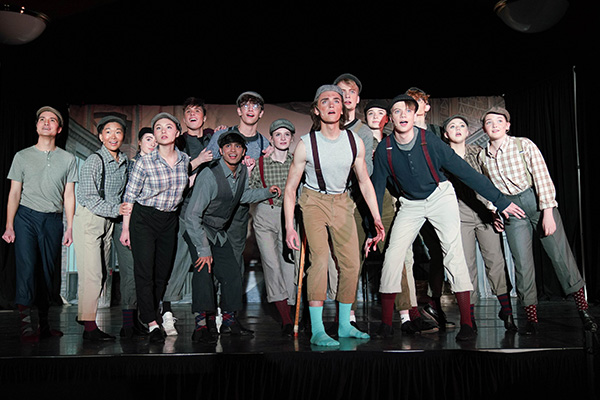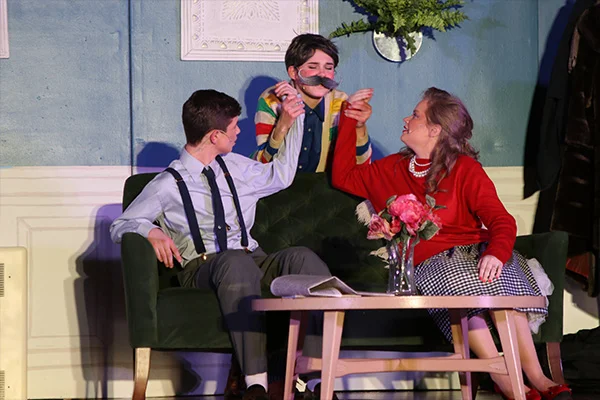 This experience is an incredible opportunity that not only builds community, but creates unforgettable memories. High school students are led by our directorial team to lean further into character development and apply advanced acting techniques throughout the rehearsal process while they worship Jesus through their performances.
Previous high school plays include Clue On Stage, Mouse Trap, and When Sea Billows Roll.
The middle school musical holds performances in April. Students in grades 3-8 are able to perform together and continue to grow in skill and ability. High school students have opportunities to assist with directing, producing, and supporting the middle school musical. Members of the Middle School cast are given "little sibs" during this production as well, furthering their abilities to lead and model Christlike behavior as they prepare to step on stage.
Previous middle school musicals include Willy Wonka, Jr., Madagascar, Jr., and Beauty and the Beast, Jr.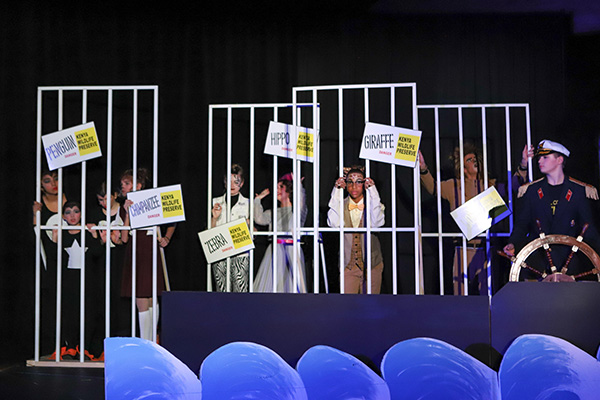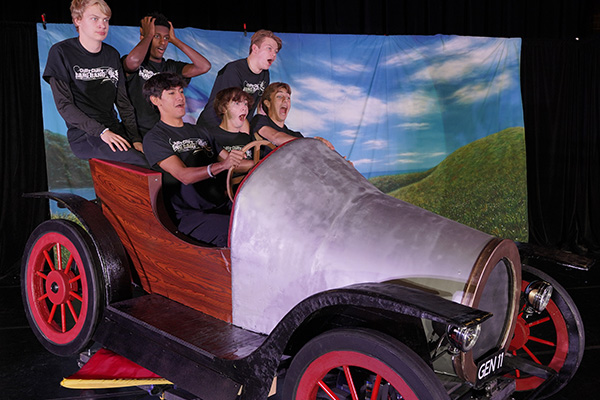 Only part of the story takes place front of stage! Westminster theater also has opportunities for those who would rather stay behind the scenes. Students can participate on crew, assist with sets, makeup, costumes, and more. Our goal is to empower students to lead and form teams, while shepherding their hearts and leading them with care and creativity.
The Adventures of Tom Sawyer • Aladdin, Jr. • Alice in Wonderland • Anne of Green Gables • Annie, Jr. • Anything Goes • Beauty and the Beast, Jr. • Bugsy Malone, Jr. • Bye Bye Birdie • Charlotte's Web • Cheaper by the Dozen • Cinderella • The Diary of Anne Frank • Fiddler on the Roof • Get Smart • The Importance of Being Earnest • The Jungle Book • The Lion, the Witch, and the Wardrobe • The Lion King, Jr. • Madagascar, Jr. • The Little Mermaid, Jr. • Mary Poppins • Mouse Trap • My Fair Lady • The Miracle Worker • The Music Man • My Son, Pinocchio • Disney's Newsies • Oklahoma! • Our Town • The Phantom of the Opera • The Princess and the Pea • School House Rock Live! Jr. • Seussical, Jr. • Singin' in the Rain • The Somewhat True Tale of Robin Hood • The Sound of Music • Stuart Little • When Sea Billows Roll • Willy Wonka, Jr. • The Wizard of Oz • The Wizard of Oz, Jr. • You Can't Take it With You
Play a role in westminster theater
Theater at Westminster requires an incredible amount of support from our parents and our partners! You can play a role in Westminster Theater by sponsoring our theater program.